Nursery (0-6 weeks)
Nursery Preschool (18-23 months)
All Learning Tree nursery rooms are clean, safe, and state-of-the-art. In each classroom you will find plenty of floor space for tummy-time, peek-a-boo, interactive spaces that stimulate curiosity and luxury cribs for sweet dreams. All nursery rooms come fully equipped with energy efficient dishwashers, washers and dryers and stainless steel toy sinks to maintain a sanitary environment. Our nursery students are engaged daily in structured activities that are designed to encourage the development of their fine and gross motor skills, listening and speaking skills, and early literacy skills. Music, sign language, arts & crafts, circle time, books, and songs are all part of their daily schedule. Our children begin being introduced to sign language from day one in our nursery program and this continues through preschool. With the opportunity of being introduced to more than 60 signs, this helps to increase the ability to begin communicating at a much earlier age. Our children also are taught that they are special, loved and one of a kind. We encourage, self-discipline, self-knowledge, independence, enthusiasm for learning and intellectual stimulation. Our program is designed to give each child as much contact as possible with their teachers to encourage emotional, intellectual and physical development.
Uniforms
Learn more about our school uniforms.  Click here.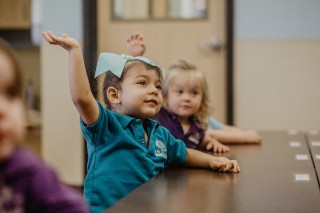 Join our Learning Tree Family
We would love for to help your child grow academically and develop strong character while instilling Christian values.